Your property can be much more profitable!
Get free consulting in our tried & tested business model. Optimize your incomes and occupancy. Start renting smartly!
Get Free Consulting on your property
Solutions to all kinds of properties
Co-Living
Property Owner
Student Housing
Property Manager
Hotels
Co-Living
Do you own a co-living space, or do you want to convert your space into it? We bring your shared living property closer to our large community of digital nomads and young professionals! See more
Property Owner
Student Housing
Property Manager
Hotels
List your property in 3 simple steps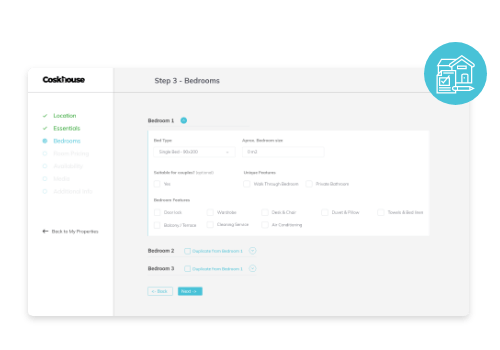 Register in minutes and create a free account straight away. List your property and advertise to thousands of international students!  
Tell us more about you, verify your identity, and decide where to get paid!
Go online and get our support to constantly optimize your ads! Start receiving tenants with no effort and close assistance!
Years experience
in the market
Cities opened
and counting
successful co-living case studies
Build your co-living model and boost your bookings!
Either you own a co-living space or you are looking to develop it, take a look at real business cases our team has helped to succeed!
What srf hosts say about us
Our Happy Community of Hosts
Over more than 12 years, it has been our pleasure to bring our landlords closer to a large   community of international tenants, making their properties provenly more profitable!
"After 3 years working with Student Room Flat I could not be happier with them, I love the focus on medium-term renting and the high quality tenants that they provide me."
"Student Room Flat team and experience have turn my old apartment in an efficient renting investment. They make the communication with tenants way easier"
"Student Room Flat brings me tenants during all year, not worrying about losing time finding them and allowing me to get more incomes for my apartment"
"Student Room Flat is definitely more effective than a short-term rental platform. I like the medium-long term rentals and the professional service that they offer. "
Start Renting Out your property