Book Your Property with Student Room Flat
Rent your property online with Student Room Flat and guarantee full occupancy of your properties.
Test our mid-term rental model and enjoy our digital marketing services to boost your reservations.

You don't know how to start? Schedule a free consultation and get all the answer you are looking for! 
Get Free Consulting on your property
Years experience
in the market
Cities opened
and counting
Join the growing trend of co-living.
The co-living grew out of a need from digital nomads & young professionals who look for high quality and community wise accommodation. 
If from one side the co-living concept presents higher incomes and more advantages to the lanldords, in the other the tenants won't settle for less than high standards. In the past 3 years  the co-living housing grew 110%, being Europe a market of exponetial increase. 
This movement became one of the fastest growing sectores and its future is promising as well as it is the monthy incomes you can get. Studies show that the medium rent for Co-Living in Europe goes around 1200 euros, guaranteeing a stable rental income.

Joing the growing trend if co-living and start renting with Student Room Flat! 
List Your Property in 3 steps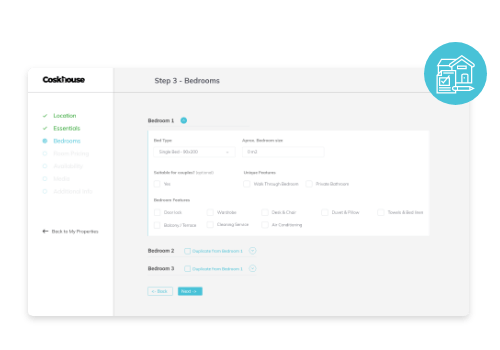 Register in minutes and create a free account! Prepare your listings and start advertising straight away! 
Tell us more about you, verify your identity with simple steps and decide where to get paid!
Go online and get our support to constantly optimize your ads! Start receiving tenants with no effort!
Rental Tips: Discover Coliving
succesful host case studies
Your property can have more potential than you think!
Take advantage of the strongest features of your property and start making your rentals way more profitable. 
By focusing on developing the value proposition to the final client, we were able to boost the bookings and to reach a full booked property!
By focusing on understanding the needs of student housing we were able to design a new concept that books by himself with more incomes and less maintenance costs.
What srf hosts say about us
Our Happy Community of Hosts
Over more than 12 years, it has been our pleasure to bring our landlords closer to a large   community of international tenants, making their properties provenly more profitable!
"After 3 years working with Student Room Flat I could not be happier with them, I love the focus on medium-term renting and the high quality tenants that they provide me."
"Student Room Flat team and experience have turn my old apartment in an efficient renting investment. They make the communication with tenants way easier"
"Student Room Flat brings me tenants during all year, not worrying about losing time finding them and allowing me to get more incomes for my apartment"
"Student Room Flat is definitely more effective than a short-term rental platform. I like the medium-long term rentals and the professional service that they offer. "
Start Renting Out your property