Discover the Best Things To Do in Valencia During Your Erasmus+
Valencia is one of those European cities that attract the highest number of students from around the world every year. The reason is that it has everything one could ask for – high-quality universities, incredible beaches, great weather, and many more things that make Valencia one of the top destinations for the Erasmus+ program. Valencia is one of the most lively places in Spain with a lot to explore and enjoy. Let us take a look at the best things to do in Valencia if you consider doing your Erasmus+ in this city.
1. Take a bike tour
One of the most exciting things to do in Valencia is ride a bike on the Spanish roads and streets. Hiring a bike and riding it along the city is an exciting way to explore the place to its best. You can find many bike rentals that offer organized tours to participate in. As you pass down the streets of Valencia, you can admire the historical architecture and old monuments. Biking along the beach is also a memorable experience. As the city has narrow streets, biking is quite safe and convenient.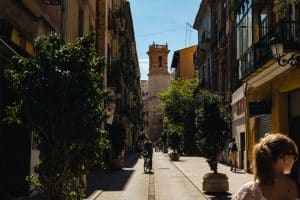 2. Go beach hopping
During your Erasmus+ in Valencia, you can always head to the beach under the sun for a holiday or weekend. There are many beaches here you can visit with friends. They are long and wide with soft, clean sand, perfect for a few hours of relaxation by the sea. The view in the evening is so stunning and great for clicking pictures. One of the most popular beaches is La Malvarrosa which is divided into two sections and starts from the port area.
3. Visit the museums
Whenever you stay in a city for your study program, visiting the museums to explore its history, art, and architecture is a must-do. One of the places worth visiting in Valencia is the City of Arts and Sciences. It is a masterpiece divided into six different buildings, each housing cultural venues and world-class attractions like a planetarium, a botanical collection of native plants, and an IMAX cinema. What makes these structures so attractive is the line of reflecting pools around them.
4. Go shopping
If you are a shopaholic, Valencia will certainly appeal to you. Shopping is one of the best night-time activities to do during your Erasmus+ in this city. There are some retail stores that sell all the popular global brands. For those who want something on a budget, there are many street shops on the roads to shop.
5. Indulge in the Fallas festival as a must-do in Valencia 
Students who are fortunate enough to be taking a course during the Fallas festival can take part in the festivities. This is the loudest and the most spectacular festival in Valencia and attending it is one of the most exciting things you can do during your Erasmus+. The highlight of the celebrations is the massive statues burnt at the end of the day. You can enjoy fireworks, food, and other things and have a one-of-a-kind experience.
6. Taste local food
Spain is famous worldwide for its food and spending time in Valencia gives you an opportunity to see why. Paella is a local dish of Valencia that people from all over the world come to taste. You can find many restaurants offering authentic and delicious Paella. It is a highly sought-after Spanish dish and was created in Valencia for the first time. The locals here grow its raw ingredients like saffron and rice. Eating the local dishes is surely one a must-do when in Valencia.
7. Explore the architecture
If you like art and architecture, there is a lot you can do in your free time during your Erasmus+ in Valencia. In the heart of the old town is the Valencia Cathedral which is known as a mesmerizing masterpiece with amazing architectural styles like baroque, gothic, and Romanesque. Whether you are an atheist or not, this cathedral deserves one visit while in Valencia. Upon your visit, you get to know the historical facts about the structure.
8. Stroll in Turia Gardens, a must-do in Valencia
A long river once separated the city of Valencia. A project was executed to divert the river from the main city as a result of which a beautiful park has been created in the middle of the city. You can walk or cycle through the park and enjoy several sports facilities available here. Many bike rental options are available to go from one end to the other. Turia Gardens is also a great place to indulge in some outdoor activities with your friends during your free time.
9. Visit the oceanographic
Valencia has a huge aquarium that houses around 45,000 marine animals of 500 different species. This is the only attraction of its type in entire Europe. The huge aquarium has ten zones, each boasting a different environment. The seawater here is pumped from the waterfront in Valencia. You will be amazed to see some of the unique species like the Beluga whales kept in big tanks designed especially for them. You can also see sea lions, penguins, sand tiger sharks, and dolphins.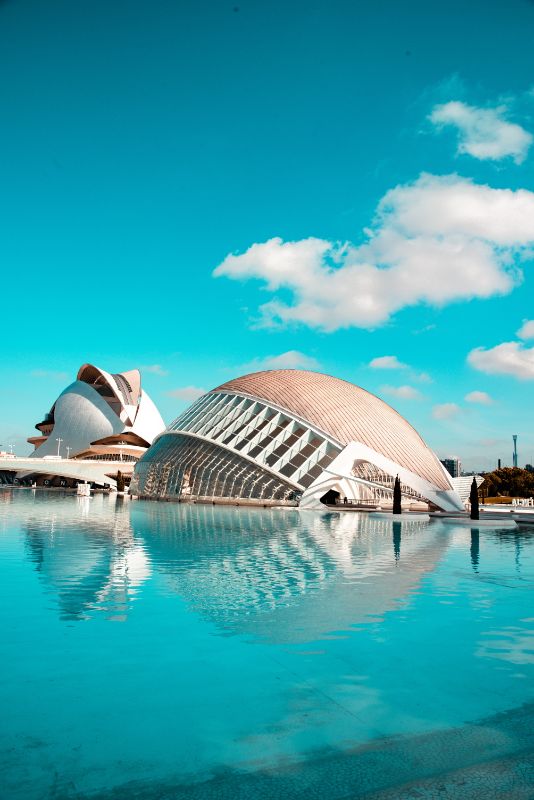 10. Enjoy the nightlife
As one can easily imagine, Valencia offers a wide range of options for music and parties. Like any other Spanish city, the love for Latin music is quite common among the locals here. There is no shortage of nightclubs to party with your friends and groove to your favorite music on weekends. Valencia is also rich in underground electronic music. Smaller clubs offer huge line-ups with guest artists coming every weekend. Here, you can find the best disco, house, techno, tech-house, and every subgenre you can imagine.
Do you know the best things to do in Valencia during Erasmus+?
Valencia is one of the best Spanish destinations for international students due to its weather, food, accommodation facilities, and quality of education. If you are considering an Erasmus+ in Valencia, these are a few exciting things you can do during your stay in the city to make it memorable and enjoyable.
Looking for a student room in Valencia? Book your erasmus+ accommodation in Valencia with the help of Student Room Flat.